Octavio Amos
Fashion designer, musician and sculptor, creative jack-of-all-trades Octavio Amos explores in this way the connections that exist between different cultures, between the present and the past.
His work is heavily influenced by his traditional Beninese culture, within which he developed his practice as a self-taught artist.The combinations of materials he uses: such as embroidered grains or twigs woven into fabric, are a modern extension of Beninese costume tradition.
In the fall of 2020, Octavio Amos launches a new collection of clothing and sculptures entitled "De Chez Nous.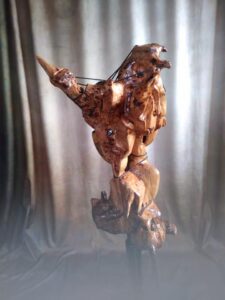 Even as a musician, Octavio tirelessly explores the same themes with his compositions at the convergence of traditional African, funk, jazz or eastern influences in solo projects accompanied by the musicians of Magic Music or in duo with Iraqi Oed player Hussein Rassim.